Dry Eye Omega Benefits from Physician Recommended Nutriceuticals used in conjunction with EyeWarmers twice a day has been proven to reduce or eliminate dry eye symptoms in 95% of patients that have tried this combination therapy. In fact, many dry eye patients in my practice are currently using both the Dry Eye Omega Benefits and EyeWarmers and have had similar results.
EyeWarmers.com is not associated with Physician Recommended Nutriceuticals, nor does it carry, supply, sell or produce any of the Omega Benefit Products. We simply have found that their Omega 3 Fish Oil products have provided greater dry eye relief to our patients than any other manufacturer's similar product on the market today. We have found that they use only the finest ingredients, have the strictest quality control, and offer the best value for our patients. For all of these reasons, we feel you should consider combining your EyeWarmer therapy with Physician Recommended Nutriceuticals Dry Eye Omega Benefits.
For more information on PRN's complete list of high quality fish oil products or to order please visit their site at:
Here is the description from the Physician Recommended Nutriceuticals Website:
Dry Eye Omega Benefits®
* Natural relief for dry eyes
* Supports proper tear function
For those suffering with dry, scratchy, red, irritated eyes, reducing inflammation is the key to relief. Dry Eye Omega Benefits® is custom formulated with a high concentration of the anti-inflammatory Omega-3, EPA (eicosapentaenoic acid) in its natural TG form, combined with Vitamin D3 for additional comprehensive health benefits. This product offers an effective, safe, and natural way to address dry eye symptoms systemically rather than topically.1
* Natural Triglyceride Form for Maximum Absorption
* Highly Purified and Concentrated
* Molecularly distilled in a Pharmaceutically Licensed Facility
* Independent Laboratory Tested for Quality and Purity
1These statements have not been evaluated by the Food and Drug Administration. These products are not intended to diagnose, treat, cure, or prevent any disease.
Here is the Supplemental Facts label from a bottle  of Dry Eye Omega Benefits.
Note that the Omega 3 is present in a natural triglyceride format. This is important because when it is present in any other form, the absorption rate is much lower and your body will be excreting the Omega 3s instead of getting it into your blood stream. This is what sets this product apart from its competition.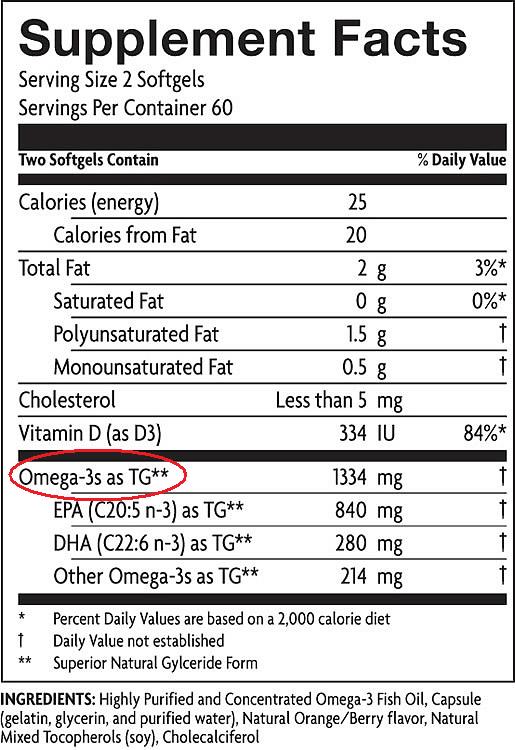 If you are suffering from dry eye, what are you waiting for, order your Dry Eye Omega Benefits from Physician Recommended Nutriceuticals today, you have nothing to lose!